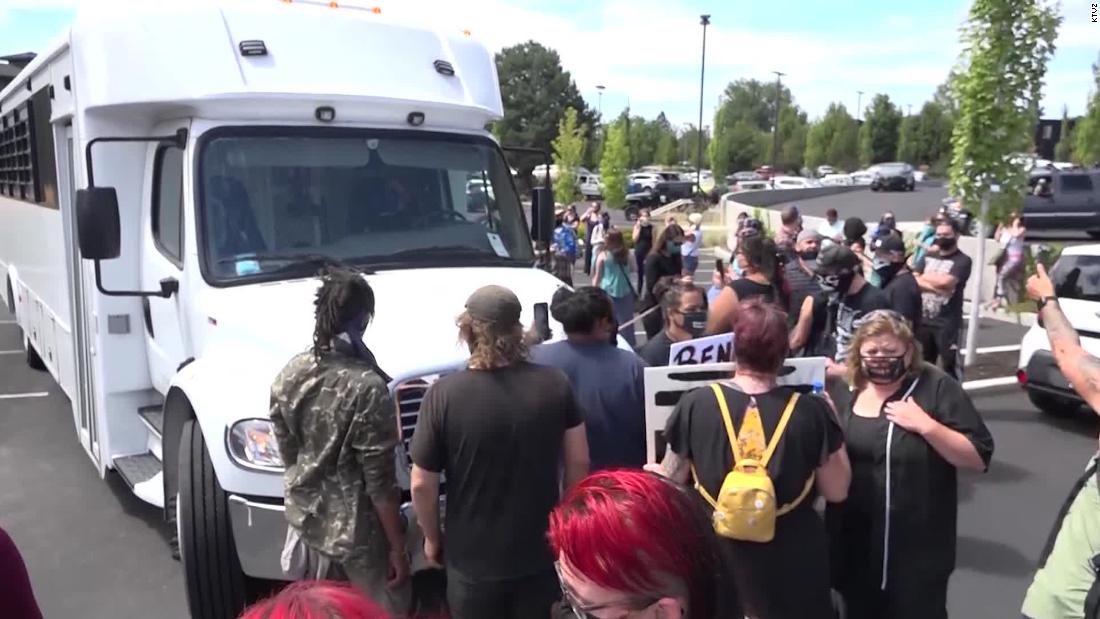 Interfering federal agents appeared to be using a spray can to force protesters to move from unmarked buses after a nearly 12-hour blockade in the town of Bend, KTVZ reported.
Federal agents have emerged from the scene, near an office building, and the crowd dispersed peacefully, Bend police said in a tweet early Thursday. Details about where the detainees went and agents were not immediately available.
The arrests that led to the blockade were of two undocumented individuals with "a history of violent criminal behavior," the Homeland Security Department said without releasing further details about them.
Acting Deputy Secretary of State DHS Ken Cuccinelli criticized the subsequent blockade and defended the intervention of federal agents.
"While ICE respects the rights of people to express their views peacefully, this does not include unlawful interference with their federal law enforcement duties,"
; Cuccinelli said in a statement. "ICE will take all necessary measures to ensure the safety of its officers and detainees, and will vigorously pursue protection against anyone who places them in a harmful manner."
When federal agents arrived at the scene Wednesday night, someone said over a bulhorn that one of the bus occupants had a life-threatening medical emergency and therefore had to be removed, KTVZ reported.
Video from KTVZ showed the agents, holding sticks and wearing tactical clothing including helmets and face shields, walking in the parking lot as members of the crowd chased, shouted and cheered.
"Feds go home!" someone shouted, according to the accomplice.
Started something started blocking
The standoff began Wednesday afternoon when a man, apparently aware that ICE had stopped someone or several people, left in front of one of the buses in a Bend parking lot, refused to move and started living online on Facebook, announced KTVZ.
This eventually drew a crowd, partly gathered to oppose the arrests. Within hours, some of the crowd held up signs with messages, including, "Stop dividing families," "It's not fair," and "Where is the love?" KTVZ reported.
Local police reported that they arrived "to allow free speech" and to make sure the demonstration was safe, but constantly tried to distance their actions from ICE bans. "We are not there in a supporting role with ICE," they tweeted.
The band's police chief, Mike Krantz, said his department was aware on Tuesday and Wednesday "that ICE agents were in Bend for an investigation, however we were not aware of their detailed plans."
"Police Bend is not involved in ICE operations," Krantz said. "We do not use funds or personnel or equipment to enforce federal immigration laws or to arrest people based on immigration status. This is in accordance with the law and policies of the Oregon department."
Before the end of the blockade, the District Attorney for Deschutes County, where Bend is located, tweeted that he had been to the scene and was "amazed by the passion and empathy shown by our community."
The district attorney, John Hummel, added that both he, the governor, the mayor and the police chief "have tried to mediate a resolution with DHS, to no avail."
"We are here," he tweeted to incumbent DHS Acting Secretary Chad Wolf, "let 's do it."
CNN turned to the governor's office for comment.
ICE regional spokeswoman Tanya Roman said that "because of law enforcement sensitivity and the safety of officers, ICE does not discuss planned operations."
"Despite the serious challenges, ICE remains committed to our public safety mission and ICE officers will continue to carry out their sworn duty to search for dangerous foreign criminals and other immigration offenders," the statement said. its for KTVZ. "ICE seeks direct cooperation with the state and local law enforcement and has never required them to implement federal immigration law."
CNN's Jason Hanna and Christina Walker contributed to this report.