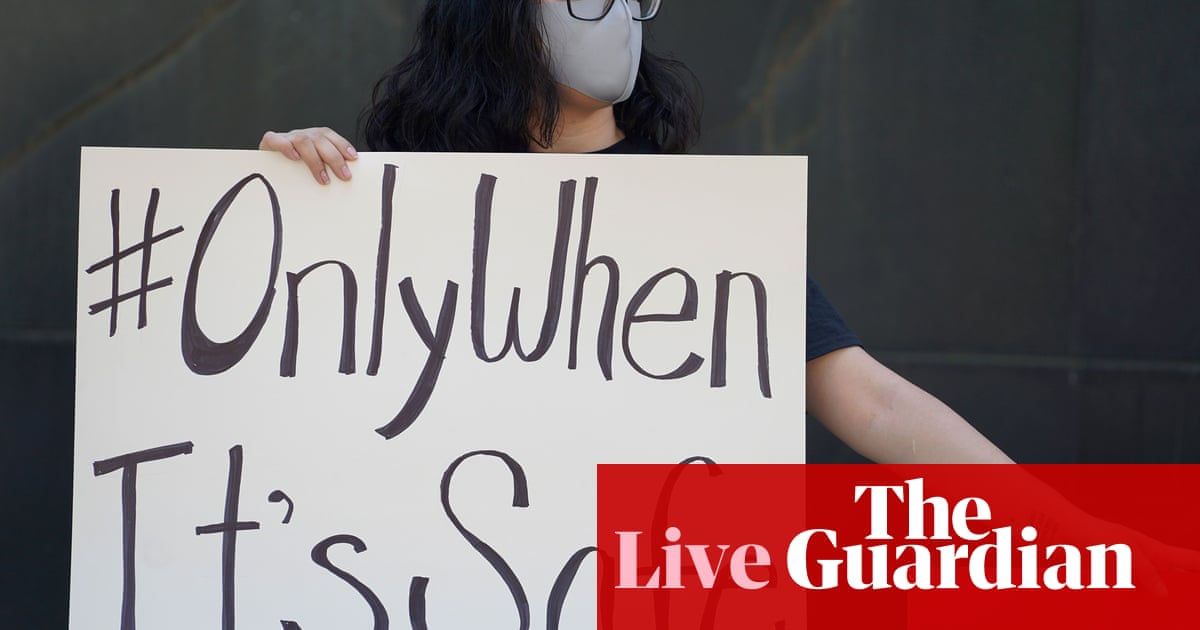 07:18
Trump denies wanting to add face to Mount Rushmore but says it "sounds like a good idea"
Donald Trump has tweeted to deny that his team ever approached the South Dakota Governor for the addition of the faces of four presidents engraved on the iconic monument in Rushmore Mountain – however he went on to say that "sounds like a good idea to me!"
Over the weekend, the New York Times reported an official Republican Party source said a White House aide had succeeded. Kristi NoemOffice with the question: "What is the process for adding additional presidents to Mount Rushmore?"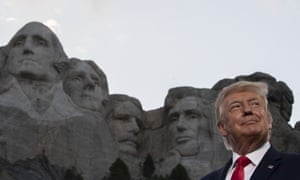 Thanks to the angle of some of the photos taken when Trump visited the memorial in July, it is not necessary to photoshop how it might look. Trump posed in such a way that he could effectively add himself as a fifth figure to the controversial monument.
The president had used the sculpture as a backdrop for an Independence Day show, which drew protests from Native American activists, who viewed the monument as a desecration of land forcibly stolen from them and used it to pay homage to hostile leaders. local people. At night he delivered a divisive speech saying the US was under siege by 'left fascism'.
The four presidents described were elected in the 1920s by sculptor Gutzon Borglum for their leadership during America's four phases: George Washington leading the nation's birth; Thomas Jefferson lighting his expansion to the west; Abraham Lincoln preserving union and emancipating slaves; Teddy Roosevelt promotes industrial innovation. Construction was completed in 1941 when funding ran out – originally presidents were created to be described head-on.
Trump has previously joked about adding his face to the monument during a rally in Ohio in 2017, using it as the basis for an attack on the media.
"Now here's what I would do," Trump said at the time. "I would ask if you one day think I will be on Mount Rushmore. If I did it jokingly – all joking, having fun – the fake media would say, 'He believes he should be on Mount Rushmore.' "So I will not say."

06:40
The head of the public health department in California resigns
The head of the public health department in California resigned late Sunday, reports the Associated Press, just days after the state announced a fix for a glitch that caused delays in gathering coronavirus test information used to make decisions about reopening businesses and schools.
Dr. Sonia Angell said she was stepping down from her role as director and state public health officer in the California Department of Public Health in a letter to staff issued by the California Agency for Health and Human Services. Angell gave no specific reason for her departure.
Angell's announcement follows the Secretary of Health and Human Services in California Dr Mark Ghaly said the glitch caused up to 300,000 records to be blown back, though not all were coronavirus cases and some could be copies. The problem affected the exchange of information on reportable diseases in California, also known as CalREDIE.
"I am grateful to Dr. Angell for her service to the people of California," Ghaly said in a statement late Sunday. "Her leadership was helpful, as the Californians leveled the curve once and put us on a path to do it again."
Sandra shewry, the vice president of external engagement for the California Health Care Foundation, will fill the role of director of health care, the Department of Health and Human Services said. Dr. Erica Pan, who has recently been appointed by the state epidemiologist, will be the interim state health official.
California has had over 563,000 cases of coronavirus. If it were a county, it would be the sixth most affected in the world, with only the US as a whole, Brazil, India, Russia and South Africa having the most.

06:35
Study: 97,000 American children test positive for Covid-19 in the last two weeks of July, a sharp increase
The Washington Post overnight had more details of this study from the American Academy of Pediatrics and the Children's Hospital Association, which claims that 97,000 American children tested positive for coronavirus in the last two weeks of July. This is more than a quarter of the total number of children diagnosed nationwide since March
Here is a small remark, that the word child can create images of many young people, but the data are from 49 countries, many of which defined children as younger than 19 years old.
A small part of the number of cases registered nationwide remains – by about 8.8%. A reminder that was Donald Trump's false claim that the children were almost "immune" to the disease this caused Twitter to temporarily suspend the account for electing the president and Facebook to remove one of his posts.
Chelsea Janes reports for the Post that:



The jump in pediatrics cases comes as children are entering cramped neighborhoods for the first time in months as some schools reopen their doors to students. For months, teachers, parents, and politicians have argued that the risks that the coronavirus novel poses to children outweigh the benefits of in-person learning.

Many school districts have chosen to operate entirely remotely until case numbers drop. Some have opted for hybrid learning systems in which children attend school in person only a few days a week to limit crowding. But even crowded schools have already exploded.
The push to reopen schools has sparked demonstrations by teachers, students and parents. 70% of new cases in children have been reported in southern and western states. Pediatric deaths from Covid-19 remain with rare mercy, accounting for only 1% of the national total.
You can read more here: Washington Post – Coronavirus cases in children rise sharply in second half of July, with more than 97,000 infections

06:25
Good morning. Welcome to our live coverage of US policy after a weekend when Donald Trump tried to unilaterally seize the coronavirus relief initiative after the number of cases registered in the country reached five million. Here you have a quick check of where we are, and what we can expect today
There were 48,354 new cases of coronavirus and 539 other deaths reported yesterday in the US – Sunday figures are often submerged due to some jurisdictions not reporting any data
Data from the American Academy of Pediatrics and the Children's Hospital Association show that more than 97,000 American children tested positive for coronavirus in the last two weeks of July. This is more than a quarter of the total number of children diagnosed nationwide since March. The study arrives as schools across the country deal with reopening
There is still confusion about the aid measures Donald Trump announced over the weekend. His plan violates congressional control over federal spending, drawing claims that it is illegal, and the governor of New York, Andrew Cuomo, described the idea that states could afford to pay 25% increase in unemployment benefits as "laughter"
The head of the California Department of Public Health, Dr. Sonia Angell resigned late Sunday. The state has had more cases of Covid-19 than any other, and also has experience problems with collecting evidence data
US Secretary of Health Alex Azar praised Taiwan's Covid-19 response during a rare high-level visit
Apple imported clothes from a company facing US sanctions on her use of forced labor in an auxiliary firm in the Xinjiang region of China
In retaliation for US sanctions imposed on officials in connection with Hong Kong, China's foreign ministry said it would be implemented new sanctions against 11 U.S. officials including Senators Ted Cruz and Marco Rubio
A fire broke out inside a Portland police union building overnight prompting authorities to declare the situation a riot. and then use incendiary ammunition and smoke cylinders to force hundreds away from the area
There is nothing in the president's public diary today. White House Press Secretary Kayleigh McEnany holds a conference at 1 p.m. Joe Biden is participating in a private fundraiser. Both homes are on holiday until Labor Day, but some senators may be around to discuss next steps toward a coronavirus relief package
I'm Martin Belam and I'll be with you for two hours – you can pick me up at martin.belam@theguardian.com