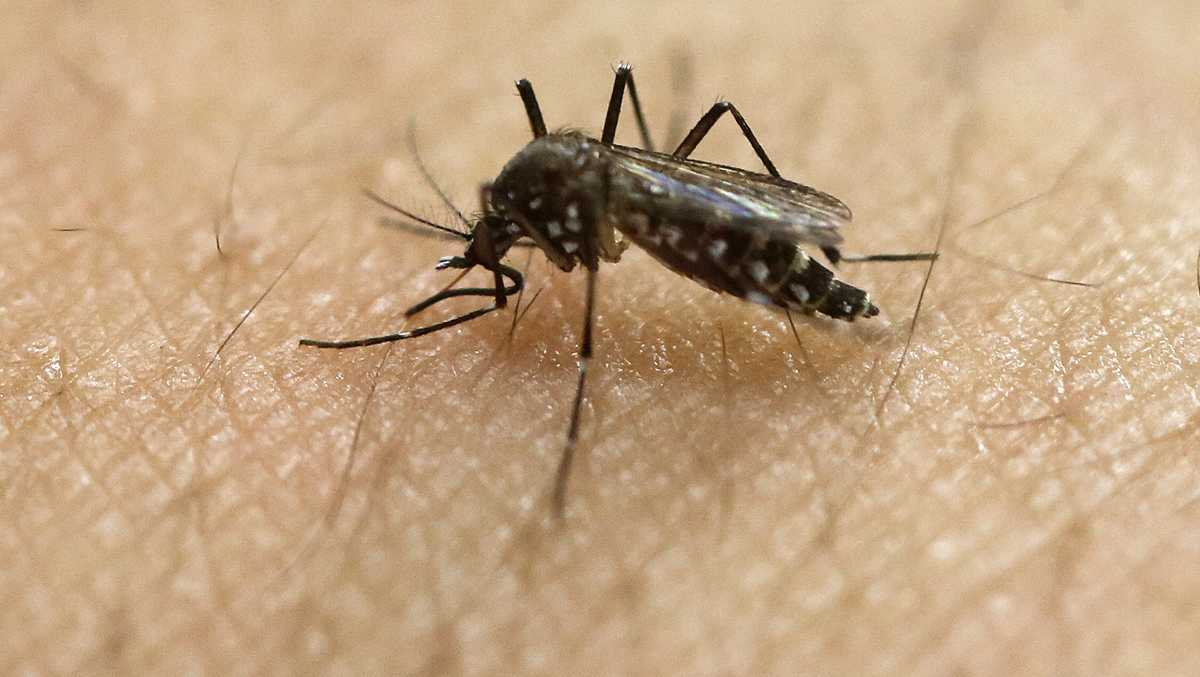 BEN: AND THIS IS J SHOULD NOO THE ROUND OF NEWS, TWO MM VERY COMMUNITY IN SOUTHEASTERN MASSACRE JAN RA RISK THE RISK FOR FOR TRADE E. HALEY FAX AND INTERIOR JAN RA TIS NDR. TWO CRITICAL RISK COMMUNITIES, MIDBOROUGH WHERE THE FIRST CASE WAS REPORTED WEEKLY AND CARVER. KAN LA HEAT AERIAL EXPRESSION. KJO ZONA SPRAY. AND WRITE FULL TF
EEE risk level rises to high levels in two other southeastern Massachusetts communities
The risk level for the Eastern Back Encephalitis virus in two other communities in southeast Massachusetts has risen from "moderate" to "high," according to the state Department of Public Health. The Bridgewater and Halifax communities, both in Plymouth County, are now at high EEE risk as of Monday. They join the Plymouth County communities of Kingston, Plympton, Rochester and Wareham in the high-risk category. Carver and Middleborough, also located in Plymouth County, are considered to be at a "critical" risk of EEE virus from the DPH. The state's first human EEE case was reported in Middleborough earlier this month. The latest announcement from state health officials brings the total number of Massachusetts communities at high or critical EEE risk to eight. The DPH also announced Monday that EEE risk in the East Plymouth County communities of East Bridgewater, Hanson, Pembroke and West Bridgewater has been raised from low to moderate. Click here for EEE, West Nile virus detection in MEEE Massages for EEE, WNV risk levels in Massachusetts. On Saturday, the DPH, Massachusetts Department of Agriculture and the State Mosquito Control Board announced that air sprays for mosquitoes will develop in specific areas of Plymouth County and a handful of Bristol County. Spraying is set to begin Monday evening, but depends on the weather and equipment. The following 25 communities, located in Plymouth and Bristol counties, are in the spray area: Plymouth County: Bridgewater, Carver, Duxbury, East Bridgewater, Halifax, Hanover, Hanson, Kingston, Lakeville, Marion, Mattapoisett, Middleborough, Norwell, Pembroke , Plymouth, Plympton, Rochester, Rockland, Wareham, West Bridgewater, and WhitmanBristol County: Acushnet, Easton, Raynham, and TauntonResidents of these communities are encouraged to visit the state's online mosquito repellent map for the latest updates. encephalitis is a rare but serious, and potentially fatal, disease that can affect people of all ages. The EEE virus has been found in 46 mosquito specimens this year and 80% of them are from mosquito species capable of spreading the virus to humans, according to the DPH. There were 12 human cases of EEE in Massachusetts last year, including six deaths. The most recent EEE spreads in the Bay State before 2019 were from 2004-06 and from 2010-12. There were 22 human cases of EEE during those two outbreaks, with 14 occurring among residents of Bristol and Plymouth counties. State health officials are reminding all residents to use mosquito repellent whenever they are out. and those in communities with high and critical risk are advised to plan their outdoor activities to avoid dusk to dawn hours to reduce exposure to mosquitoes most likely to spread EEE virus.PGRpdiBjbGFzcz0iaW5mb2dyYW0tZW1iZWQiIGRhdGEtaWQ9IjJiOTQxOWE2LWJkMzYtNDk5NS04ZTI3LTJmZmQzNTViM2VjZCIgZGF0YS10eXBlPSJpbnRlcmFjdGl2ZSIgZGF0YS10aXRsZT0iRUVFLCBXZXN0IE5pbGUgaW4gTWFzc2FjaHVzZXR0cyI + + PC9kaXY PHNjcmlwdD4hZnVuY3Rpb24oZSxpLG4scyl7dmFyIHQ9IkluZm9ncmFtRW1iZWRzIixkPWUuZ2V0RWxlbWVudHNCeVRhZ05hbWUoInNjcmlwdCIpWzBdO2lmKHdpbmRvd1t0XSYmd2luZG93W3RdLmluaXRpYWxpemVkKXdpbmRvd1t0XS5wcm9jZXNzJiZ3aW5kb3dbdF0ucHJvY2VzcygpO2Vsc2UgaWYoIWUuZ2V0RWxlbWVudEJ5SWQobikpe3Z hciBvPWUuY3JlYXRlRWxlbWVudCgic2NyaXB0Iik7by5hc3luYz0xLG8uaWQ9bixvLnNyYz0iaHR0cHM6Ly9lLmluZm9ncmFt LmNvbS9qcy9kaXN0L2VtYmVkLWxvYWRlci1taW4uanMiLGQucGFyZW50Tm9kZS5pbnNlcnRCZWZvcmUobyxkKX19KGRvY3VtZW50LDAsImluZm9ncmFtLWFzeW5jIik7PC9zY3JpcHQ +
BOSTON –
The risk level for the Eastern Back Encephalitis virus in two other communities in southeast Massachusetts has risen from "moderate" to "high," according to the state Department of Public Health.
The Bridgewater and Halifax communities, both in Plymouth County, are now at high risk for EEE as of Monday. They join the Plymouth County communities of Kingston, Plympton, Rochester and Wareham in the high risk category.
Carver and Middleborough, also located in Plymouth County, are considered to be at "critical" risk of EEE virus from DPH. The first state case in human EEE was reported in Middleborough earlier this month.
The latest announcement from state health officials puts the total number of communities in Massachusetts at high or critical EEE risk at eight.
The DPH also announced Monday that EEE risk in the East Bridgewater, Hanson, Pembroke and West Bridgewater Plymouth County communities has been raised from low to moderate.
On Saturday, the DPH, the Massachusetts Department of Agricultural Resources and the State and Mosquito Control Board announced that aerial spraying for mosquitoes would take place in specific areas of Plymouth County and a small portion of Bristol County.
Spraying is set to begin Monday evening, but depends on the weather and equipment.
The following 25 communities, located in Plymouth and Bristol counties, are in the spray area:
Plymouth County: Bridgewater, Carver, Duxbury, East Bridgewater, Halifax, Hanover, Hanson, Kingston, Lakeville, Marion, Mattapoisett, Middleborough, Norwell, Pembroke, Plymouth, Plympton, Rochester, Rockland, Wareham, West Bridgewater and Whitman
Bristol County: Acushnet, Easton, Raynham and Taunton
Residents of these communities are encouraged to visit the state's online air mosquito map for the latest updates.
Eastern equine encephalitis is a rare but serious and potentially fatal disease that can affect people of all ages.
The EEE virus has been found in 46 mosquito samples this year and 80% of them are from mosquito species capable of spreading the virus to humans, according to the DPH.
There were 12 human cases of EEE in Massachusetts last year, including six deaths. The most recent EEE spreads in the Bay State before 2019 were from 2004-06 and from 2010-12. There were 22 human cases of EEE during those two periods of outbreak with 14 cases occurring between residents of Bristol and Plymouth counties.
State health officials are reminding all residents to use mosquito repellent whenever they are outside, and those in high-risk and critical communities are advised to plan their outdoor activity to avoid dusk in dawn hours to reduce exposure to mosquitoes that are most likely to spread the EEE Virus.
Source link